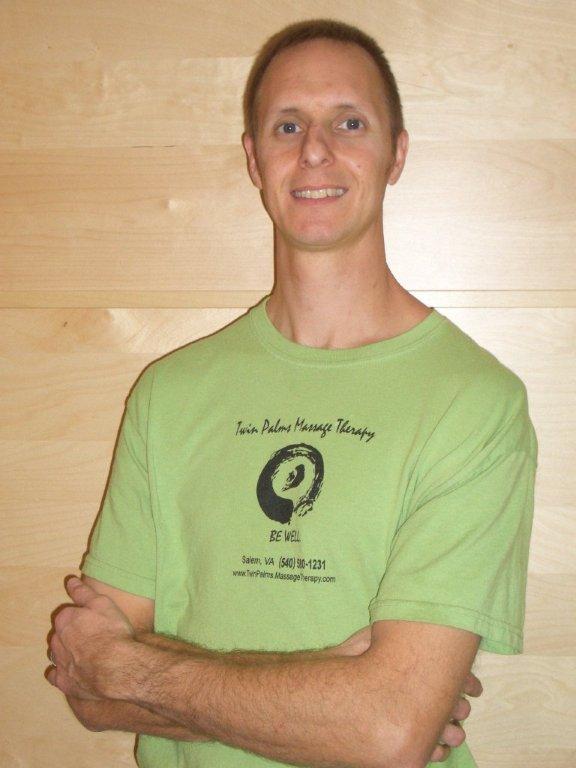 Eric Goodbar, CMT has been providing Therapeutic Massage since 2000 and has had training in many different types of bodywork including Swedish, Deep tissue, Pregnancy, Kiatsu, Sacred Lomi Lomi, and The Rossiter System. Using an eclectic approach Eric's massages are one of a kind and must be experienced to appreciate.
Massage
The body naturally operates and heals most efficiently when it's open, calm, and relaxed. Tension restricts blood flow, lymph flow, communication via nerves and hormones as well as blocking energy flows recognized in eastern healing arts like Acupuncture, Reiki, etc. Tension constricts necessary openness, space. Restricting this openness or space is why health and healing decline physically, emotionally, and spiritually. Stress affects everyone differently and we need to do something to counter the negative effects. Massage is a wonderful way to help your body, mind, and spirit find balance, providing space, and allowing openness for healing and proper function to happen naturally as it was created to do. Every time you get a massage you are teaching your body to relax and in return you continue to get better at letting go of tension in the real world. I look forward to helping you seek balance and find a little harmony in your life.

Corporate Massage (Print Flyer, click here)
Discover what many leading companies already know —
Job-site chair massage programs produce numerous proven benefits for your company and your employees. Whether your aim is greater productivity, reduced absenteeism, or a memorable reward for a job well done, Job-site chair massage is a high-return investment in your company's workplace wellness program.
Who uses Job-site chair massage?
From small businesses to Fortune 500 companies, Job-site chair massage has become an invaluable tool for reducing stress and promoting health in today's demanding modern workplace. As you consider using Job-site chair massage, consider that studies have shown:
*50 percent of lost workdays can be attributed to stress
*40 percent of job turnover is a result of stress
*Even a 15-minute chair massage has been shown to reduce stress, while increasing alertness and accuracy
Why use Job-site chair massage?
Job-site chair massage delivers a wealth of tangible, bottom-line benefits for your company and your employees, including:
Increased performance Increased energy
Improved problem solving Increased productivity
Decreased absenteeism Enhanced creative thinking
Greater worker retention Heightened morale and employee appreciation
And an overall positive work environment
When is a good time to arrange Job-site chair massage?
The needs of every company are unique. Select the option that works best for you:
Weekly, bi-weekly, or monthly staff appreciation
During major projects or periods of increased stress
Every quarter Off-site events
Office parties For non-cash bonuses or employee perks
How to get started with Job-site chair massage?
Call now to discuss scheduling your first appointment (540)580-1231
Decide who will pay (company, employees, or shared between company and employees)
Encourage all employees to participate and sign up for the appointed times.
TESTIMONIAL:
"I've noticed a definite lessening in my high-tension areas, mainly my neck and lower back, since Eric has been visiting our office. The massages work wonders after a tough week of too much sitting in front of the computer. Our whole office looks forward to Eric's visits." -Lisa