1) Please print the 2 forms below and print each of them on 2 sided paper and in color. If you can't print in color and 2 sided then please read the "what to expect" form and you can fill out a "Health Form" in the office.
Health Form (Please fill this out and bring it in. It's slightly different from the form you may have filled out online and is fairly short.) 1 page front and back.
What to Expect (Read this flyer to be more prepared for your session.) 1 page front and back.


2) Please text your name and a picture of you to 540-580-1231 to be added to your contact information.


3) Please, if you have time, type out a timeline history of any injuries AND surgeries from childhood to now. Either print it or email it to me to keep with your file. twinpalmsmt@gmail.com
Example: 3/2004 broke right wrist
6/2010 sprained left ankle
10/2011 low back surgery

4) When you get to my office, text my phone # to check in. When it's time for your appointment I will come out and get you.

**No information will be shared and is used for client records only.


Rescheduling & No Show Fee:
I am holding a specific time for your session to help your body feel and function better. Please remember I have a 24-hour rescheduling policy, so if you decide this time won't work for you, please be sure to let me know at least 24 hours before your appointment. Any changes within that 24-hour window OR if you don't show up you will have a $20 rescheduling fee OR no-show fee. I look forward to seeing you soon to help your body feel better and function better.


Directions to office
From Interstate 581 take Peters Creek Rd. SOUTH exit. On Peters Creek Rd, go through 2 stop lights. After the second stop light I am immediately on the right in the North Roanoke Plaza.

Contact Information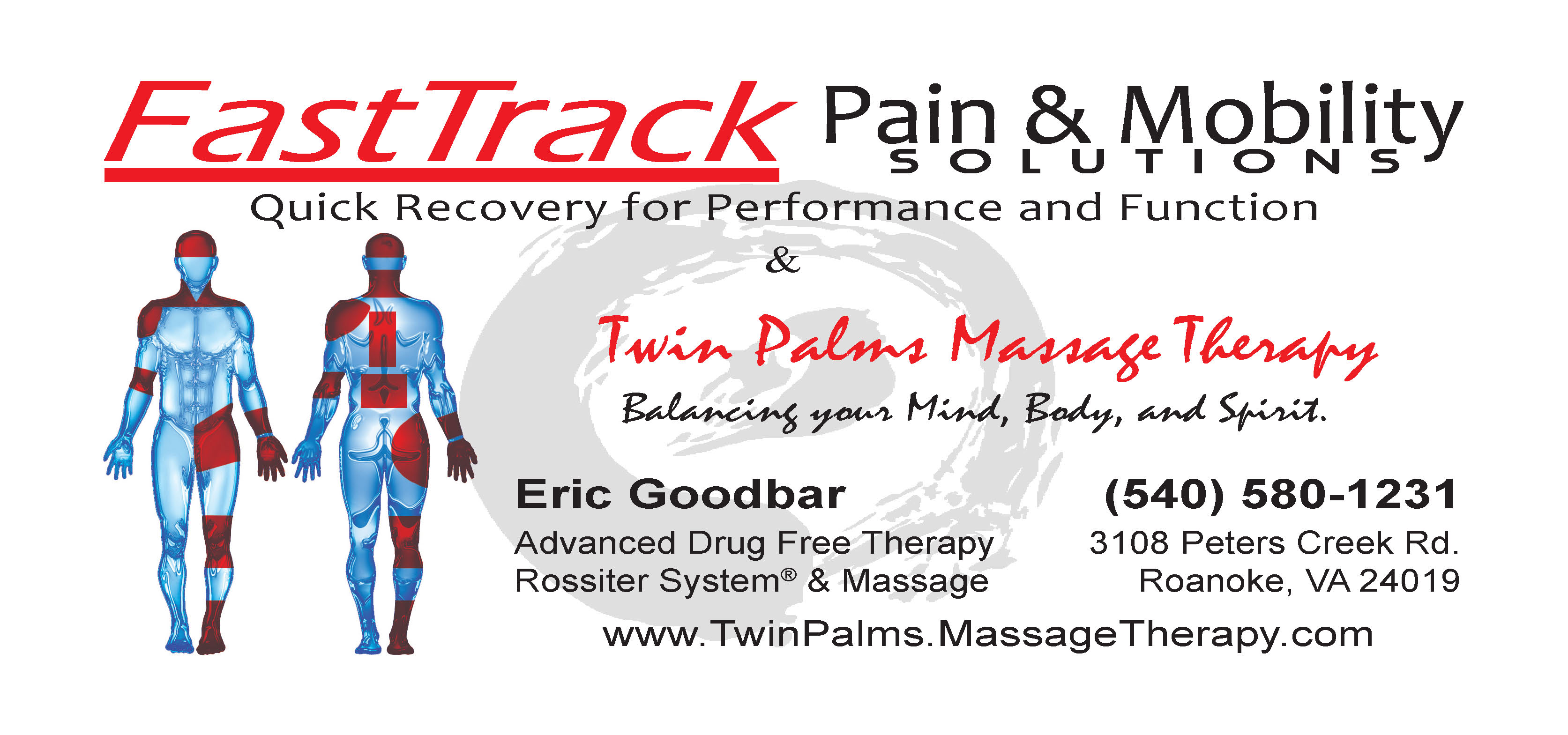 Eric Goodbar, Board Certified in Therapeutic Massage & Bodywork Therapist, Certified Master Rossiter Coach
FastTrack Pain & Mobility Solutions
&
Twin Palms Massage Therapy
3108 Peters Creek Rd.
Roanoke, VA 24019
540-580-1231
twinpalmsmt@gmail.com
www.TwinPalms.MassageTherapy.com